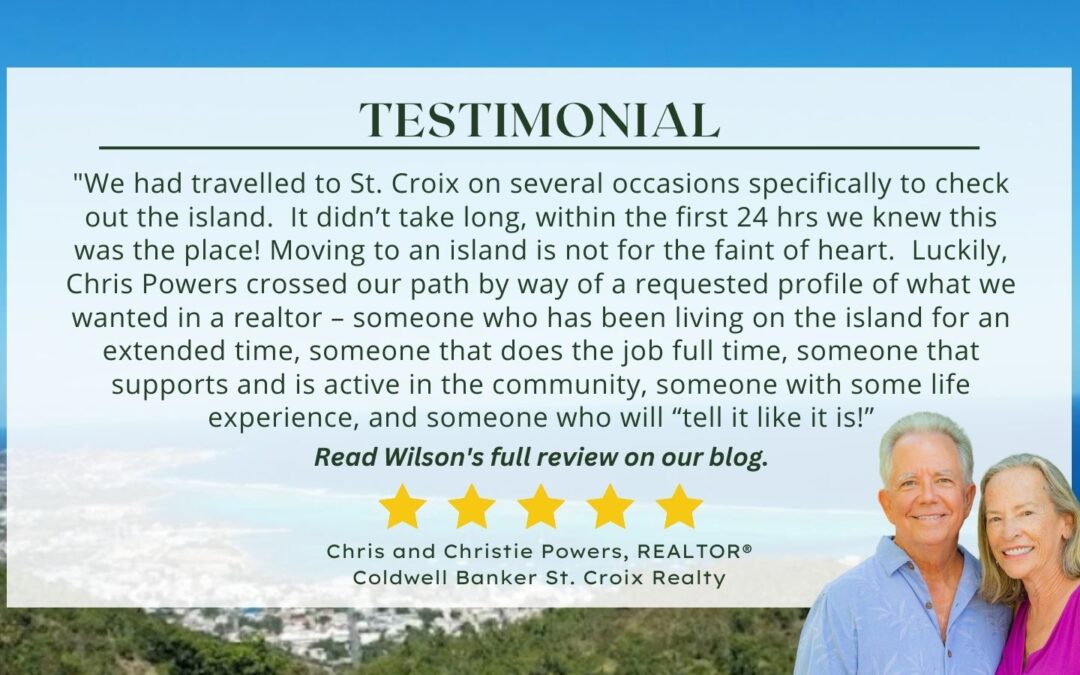 Full review from our clients the Wilson's! 
"We had travelled to St. Croix on several occasions specifically to check out the island. It didn't take long, within the first 24 hrs we knew this was the place!

Moving to an island is not for the faint of heart. Luckily, Chris Powers crossed our path by way of a requested profile of what we wanted in a realtor – someone who has been living on the island for an extended time, someone that does the job full time, someone that supports and is active in the community, someone with some life experience, and someone who will "tell it like it is!"

When Chris contacted us we needed to have a quick conversation. I had seen the house, or at least I thought I had. We spoke at length on the phone. Chris asked us all kinds of questions, even what kind of car we drove… Yes! That is important. We told him about the specific house we saw online and rather than have us travel for that one house he set up a walk thru tour (Skype in our case) for convenience and to see if we really were interested before we took the time and money for a trip down. This was huge for us! We liked the house even more after seeing it this way and made plans to travel.

Chris and Christie met me for dinner the night before the scheduled viewing to continue to get to know me and what we really wanted in a house and a lifestyle. The conversations were easy and honest…and full of important information on any and every subject.

Loved the house! Within the few days of arrival, we had accepted an offer on our home in the states, and were under contract for our new island home. We flew in on the day of our closing … suitcases, dogs, and nervous anticipation… And Chris met us and drove us up to the house… and opened all the windows, got our bags in, got us settled and left us to watch our first sunset from our patio. Chris and Christie have been and continue to be a tremendous source of information and networking. You need this on island! You will need people. And luckily, we have great people! And friends … including Chris and Christie.

The best advise Chris gave: "do a little maintenance all the time". There's always some work to do. "It's the price you pay for paradise"'